Who is online?
In total there is
1
user online :: 0 Registered, 0 Hidden and 1 Guest
None
Most users ever online was
89
on Wed Dec 31, 2014 5:20 pm
Name: Mira Sheerwood Anderson
Gender: Female
Age: 19
Race: Girl/Fox
Home World: Deep Jungle
Appearance: Mira has black hair that drapes down her back but stops right before it hits her hips. She has gray eyes that are usually looking stern, as she does not like to play around much. She is about 5'6" and 110lbs. On her right shoulder, if she wears a tank top, there is a tribal tattoo that trails down her shoulder, but doesn't reach her elbow. She mostly like to wear clothes that show a mid drift and capris.
Personality: Mira is a hard person to get to loosen up. She is hard on the surface and likes guys who can make her life, as it does not remind her of her father. Her trust isn't handed out easily either. It takes a while to get her trust, as she will find ways to not accept your trust. Yet when she loosens up, it's like she is a new person. She enjoys things from art and creativity to just partying.
Elemental Mastery:
Primary: Earth
Secondary: Wind
Tertiary: Water
Weapons: Mostly she uses her fists, as she was taught to fight that way
Job: Mercenary
Fighting Style: Short-ranged battle
fist fights
Alignment: Lawful
Affinities: Mira is good at hiding her character and seeming emotionless as she keeps herself in check to not get hurt. She is an extremely good painter though. Her skills in hiding and surviving are up to par, as it seems she was raised to do that for her whole life. Another thing, she will not sell herself to get anything she wants. If she needs it, she'll just go against her lawful ways and steal.
Weaknesses: Mira cannot use weapons. She doesn't know how to hold a sword, katana, or pistol. Singing isn't in her cut either, as she doesn't like to sing. Her trust giving is a weakness, as any man can easily gain her trust, if he worked at it. Even under the hard exterior, Mira does have her anger, that she will use if need be.
History: Mira was born from Andrew Anderson and Melanie Anderson. Both were hybrids whose embryo's were messed with by a doctor. When they were on the world of Beasts Castle, Belle and the others had no clue of the hybrids that were hidden there by the doctor.
Andrew and Melanie were looked down upon, as the doctor died of a heart attack before he could create more of their kind. The other half-breeds didn't like them, as they were different. Her parents didn't fuss though as they took the doctors gummi ship and flew to the Deep Jungle.
During this ride though, Mira's mother became sick, and soon, they found out that she was pregnant. Luckily, one of the other half-breeds had a child and Andrew had helped the doctor deliver the baby boy. So he knew what he was going to do.
By the time they reached the Deep Jungle World from the creaky old gummi ship, Melanie was already in labor to give birth to Mira.
Yet, Mira's father soon grew troublesome, and became abusive to her and her mother. Her mother, after being bloody from the abuse, went to find Mira some food when Mira was 12. When Mira found her mother, Melanie was torn to shreds from a jaguar. Mira learned to survive, though her trust was lost forever by the grave site of her mother's. She learned to trust nobody.
Andrew had other thoughts though, and taught the girl how to survive, but not feeding her and giving her shelter. Teaching her to defend herself against him when he tried to abuse her.
One day though, he went a little to far and mentioned her mother. Mira couldn't take it as she kept on slamming her fists to him. When she finally stopped, she had killed her father at the age of 14. She took the old gummi ship and drove back to her old half-breeds and told them of what she had done while crying.
They had marked her with the tattoo of the killer and told her to leave. As she was banished from their world, just as her parents were.
Mira now looks around to find somebody who she can trust and a new home.
Pictures:
Younger:

Older, sorry it's without ears, just place them on her: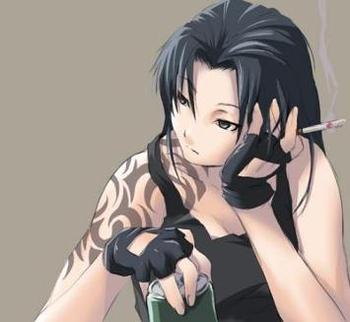 Dee




Posts

: 104


Points

: 144


Join date

: 2010-10-25


Age

: 23


Location

: In life



Hope no one minds I take this. Dee's been waiting....

This looks really good Dee. Great job on the history too, even being as sad as it is to read. I think she'd get along great with Shade. They seem to have similar personalities. >>

Everything else looks in order as well. Again, good job!

Approved

Shade Leonhart

Attitude Adjuster





Posts

: 235


Points

: 180


Join date

: 2010-03-21




Similar topics
---
Permissions in this forum:
You
cannot
reply to topics in this forum