Who is online?
In total there is
1
user online :: 0 Registered, 0 Hidden and 1 Guest
None
Most users ever online was
89
on Wed Dec 31, 2014 5:20 pm

Name
: Wisdom Form
Appearance
: Sora's clothing takes on a dominant blue appearance with black accents, much like Valor is red. Blue vapor rises from his feet and his hands, providing a slightly eerie look to him as he slides across the landscape, and he literally slides.
Strength
: Wisdom, like all of Sora's Drives, is an increase in his power. In this case that power is intellectual and magical in nature, as well as increasing his speed and movement. Sora does not stop moving during this Form, unless he has landed from a leap.
Stamina
: 15 of Sora's posts
Affinities
: While in this Form, Sora only uses one Keyblade, the one in his Right Hand, whichever he is using for his Primary Keyblade, and his skill and power with magic is greatly increased, as are his speed and movement factors. While in this form, Sora is immune to Space-elemental status effects. Also, Wisdom Shot allows him to fire off magical blasts from his Keyblade much like a ranged-nature normal melee attack.
Weaknesses
: While in Wisdom Form, Sora cannot endure much in the way of hits. His defensive scores are severely lessened because of the form. Also, there is the chance of succumbing to the Anti Form.
History
: When Sora woke from his sleep … well, a year had passed and a year in the life of a teenage boy meant that his clothes … were in dire need of being altered, or changed completely. Which is exactly what happened when he was able to meet with the three Fairy Godmothers in Yen Sid's tower. He was given a new set of clothes and with them the ability to access the Drives, though some of them took more to learn than others. Wisdom Form draws on Sora's Friendship with Donald.
Pictures
: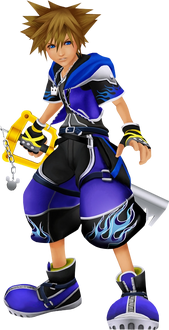 Last edited by Sora on Mon Aug 23, 2010 6:57 am; edited 1 time in total

Sora




Posts

: 109


Points

: 102


Join date

: 2010-08-20



Looks good. Two things.

One, no need to say what Keyblades you can and can't use.

Two?

No Melee. Ever. That's how it works.

Riku

Admin





Posts

: 65


Points

: 44


Join date

: 2010-03-10



No Melee?

Then how do you describe that ranged magic bullet thing he can do with it? Wisdom Shot and Retaliating Slash both involve magic-based bullets from the Keyblade and we really don't have enough in the way of Magic here to make it viable as anything other than a ranged-melee strike.

Unless you're talking just the strict weapon-to-weapon action and then, yeah, I can live with that. The Form's all about casting on the run and such.

Sora




Posts

: 109


Points

: 102


Join date

: 2010-08-20




---
Permissions in this forum:
You
cannot
reply to topics in this forum