Who is online?
In total there is
1
user online :: 0 Registered, 0 Hidden and 1 Guest
None
Most users ever online was
89
on Wed Dec 31, 2014 5:20 pm
Name
: Kingdom Key ++
Type of Weapon
: Keyblade
Primary/Secondary
: Primary
Description
: The Kingdom Key ++ looks just like the other Kingdom Keys in that it has a silvery finish with a round shaft leading to a set of key-like teeth that are cut out to resemble Mickey's crown. The blue wrapped handle is surrounded by a golden guard and from the pommel hangs a chain leading to a keychain in the shape of Mickey's silhouette, his head at least.
Elemental Alignment
: Light
Ability/Function
: Is able to use the standard features of any Keyblade, locking, unlocking, opening, closing, dismiss, appear, that sort of thing. The Kingdom Key, though, is a shapeshifting Key in that it has no set form or abilities. It conforms to the qualities inherent in the Keychain which is attached to it. At the moment it is equipped with simply the Kingdom Keychain but it is significantly stronger than would be expected for such a nondescript appearance.
This is the weapon Sora uses in his Right Hand for normal combat, and in Wisdom and Limit Forms.
Close/long range
: Close Range
History
: Sora was not originally supposed to wield a Keyblade. Aqua did not perform the Rite of Succession for him when she met him as a child out of a fear that he would one day be forced to fight his friend as she feared that she would have to do with her friend, Terra. When Riku's heart failed him, though, after the destruction of Destiny Islands and separation from his friends, the Keyblade which Riku was supposed to wield passed in turn to Sora, who carried the heart of a Keyblade wielder, Ventus. Sora has been a wielder of the Keyblade ever since, apart from a brief loss of the Keyblade to Riku when he regained his strength of heart.
Pictures
: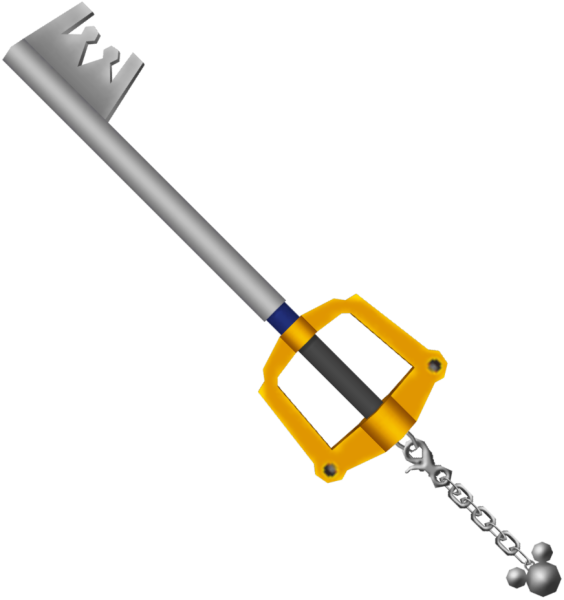 Last edited by Sora on Fri Aug 27, 2010 10:18 pm; edited 2 times in total

Sora




Posts

: 109


Points

: 102


Join date

: 2010-08-20



Hmmm...

Okay, the Kingdom Key is a basic weapon. That's fine, no problem, approved.

Remove Oathkeeper and Oblivion from this app, though.

Each one needs to be its own Weapon.

So, yeah.

...As a side-note, the Kingdom Key, while being the default, STILL requires a charm. Meaning we don't know WHAT Sora's base Keyblade is, but, it's not the Kingdom Key. The Kingdom Key is its own weapon.

So, yeah, all other Keyblades will be treated as their own Weapons.
Last edited by Riku on Fri Aug 27, 2010 10:13 pm; edited 1 time in total

Riku

Admin





Posts

: 65


Points

: 44


Join date

: 2010-03-10




Sora




Posts

: 109


Points

: 102


Join date

: 2010-08-20




Similar topics
---
Permissions in this forum:
You
cannot
reply to topics in this forum