Who is online?
In total there is
1
user online :: 0 Registered, 0 Hidden and 1 Guest
None
Most users ever online was
89
on Wed Dec 31, 2014 5:20 pm
Name: Eternal Flames
Type of Weapon: Chakrams
Primary/Secondary: Primary
Description: Each chakram is circular and red, with silver spikes and circles around the edges, and two black handles cross in the middle. Each chakram has eight spikes, possibly referencing Axel's rank in the Organization.
Elemental Alignment: Fire
Ability/Function: These chakrams are used for melee fighting and a little ranged fighting. Axel can throw them through the air at his opponent and while the chakrams are in the air he can set them on fire from a distance, acting as a remote detonator of sorts. He can also make them appear out of thin air in a swirling burst of flames, much like a keyblade. Another thing he can do is set the tips of the blades on fire and attack with fire based attacks, giving him a 10% bonus to damge and causing some burn damage.
Close/long range: Mainly Close
History: Created many years ago these chakrams were wielded by many people. Most of the men or women who wielded this powerful weapon were usually alligned with the element of fire. Over time the bearer would usually pass it onto their son or daughter, keeping the weapon in the family. After years of it being in one certain family the current bearer of it lost it. The boys family searched for years but was unsuccessful.
Through all their searching they never found them. The reason the family couldn't find them was because the Organization had obtained them and gave them to Number VIII, Axel. The new member of the Organization took them proudly and started learning to use them effectively.
Pictures: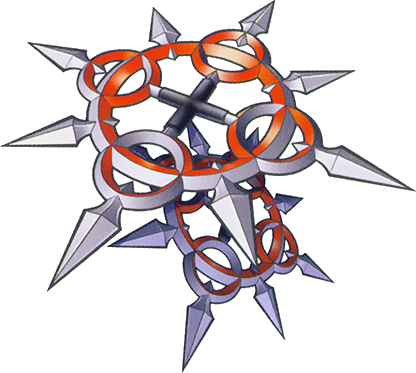 Last edited by Axel on Sat Mar 13, 2010 6:28 pm; edited 1 time in total

Zassou




Posts

: 35


Points

: 57


Join date

: 2010-03-09


Age

: 24


Location

: In the closet...



How much damage would he be adding to the attacks with the fire on the weapons?

Grizz

Zassou




Posts

: 35


Points

: 57


Join date

: 2010-03-09


Age

: 24


Location

: In the closet...



Hmmm . . . 10% would be a minor boost . . .

I can't think of anything particularly twitchy about this, so unless Roxas sees something out of line that I missed . . .

Approved.

Grizz
---
Permissions in this forum:
You
cannot
reply to topics in this forum